98042 's Preferred Bathroom Faucet Repair Contractors
Drain Away Plumbing is the Premier Name for Bathroom Faucet Repair in 98042!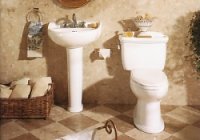 When something goes wrong with your kitchen or bathroom plumbing, it's common to blame the pipes. Yet plumbing issues have a wide variety of sources, many of which have little or nothing to do with pipes. Often, the problem is no deeper than the handles, shower heads, and other fixtures on your plumbing equipment. Drain Away Plumbing offers fixture repair and replacement services to families all over the Auburn area. Whether you seek to improve faulty plumbing equipment or simply make your kitchen or bathroom more beautiful, our team has the skills and experience you need to succeed.
If you are not 100% satisfied with the plumbing service we have provided, we will refund all of your money. If our plumbers smoke or swear in your home; are not drug-free; do not wear shoe covers or leave your home without cleaning up, you do not pay for the plumbing service. If a repair fails in the first year, we will repair it again absolutely free.
The Many Benefits of Replacing Your Fixtures
While many homeowners see fixtures as minor features of their kitchens and bathrooms, they actually play a critical role in the convenience and efficiency of your home. Consider the importance of:
Bathroom Faucets - Bathroom faucets are essential both for controlling the amount of water you use and making sure that water is the right temperature. Quality faucets are also less likely to leak, saving you from high water bills, rust, mold, and a range of other problems that leaks can bring.
Garbage Disposals - The better the condition your garbage disposal is in, the more consistently it will be able to grind up food that washes down the drain. This lowers the risk of clogs and other issues that can harm your plumbing.
Shower Heads - The quality of your shower head makes a big difference in how comfortable and clean your shower is. The better the head is, the less likely it is that you'll have to deal with mold and other health issues, and the more control you'll have over how the shower feels.
---
Drain Away Plumbing's Vow to Quality
The Drain Away Plumbing team strives to offer quality in all its forms to each of our customers. This means that when we install or repair plumbing fixtures, we:
Save Water - By installing fixtures that are as precise as possible and highly resistant to leaks, we minimize the amount of water that you will use. This lowers your water bill and reduces your daily impact on the environment.
Avoid Repairs - Whether we're installing a new fixture or replacing an existing one, we check carefully for any sources of future problems and address them comprehensively. This reduces the risk that your fixtures will break in the future, saving you money, time, and stress.
Add Beauty - By carrying fixtures in a variety of different shapes and styles, we allow you to put a beautiful, creative spin on your bathroom or kitchen. This not only raises the value of your house, but allows you to express yourself, making the home feel like it is truly yours.
For more information on fixture services and other plumbing solutions, contact Drain Away Plumbing today.